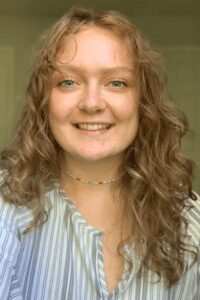 Emma Guertin
North Carolina State University, MS
EREF Scholar 2021
Developing High-Yield Resilient and Robust Anaerobic Co-Digestion of Food Waste and Municipal Solid Waste
Project Description:
Guertin's project investigates the development of a resilient process for anaerobic co-digestion of food waste and municipal solid waste (MSW). Resiliency in anaerobic co-digestion is indicated by the microbial community's ability to adapt to changes, such as types of the food fed to the microbes in the system. Resiliency is critical for the performance of anaerobic digestion; otherwise, microbial communities will not adapt and may die off and stop performing.  Developing a resilient system for anaerobic co-digestion is important for optimizing gas production from the microbial community.
The end goal of this research project is to help develop operational procedures for full scale plants to use food waste in anaerobic codigestion. To do this, it is important to study the resiliency of anaerobic digestion with food waste to understand the microbial community's ability to adapt to the different types and different mixtures of food waste. By loading varying mixtures of food wastes at each stage of the experiment, we can track the methane production and other indicating parameters to monitor the microbial community adaptation. Once we understand which types and combinations of food waste the microbial communities were able to adapt to best and produce the most methane, we can use this to develop loading procedure recommendations to full scale plants.
The experimental design of this research project allows for data collection at all possible different mixture points, providing valuable insight into the effects of changing substrate types and the different substrate mixtures. At the end of the experiment, researchers will understand how microbial communities react to these changes and how they adapt to different mixture points. Understanding which mixtures of food waste produce the most methane will help full scale plants adapt these procedures to maximize their gas production, therefore maximizing profits from the gas (selling to be used as energy or using it themselves to heat/provide energy for their plant) and normalizing food waste as a substrate in co-digestion.
Biography:
Emma Guertin graduated with a Bachelor of Science in Civil Engineering from University of Massachusetts Amherst in May 2020. At UMass, Emma worked on a drinking water research project studying the changes in microbial water quality between intermittently and continuously operated water distribution systems. She was very active in Engineers without Borders and worked for two summers at VHB as a Land Development Intern. She is currently a master's student studying Environmental Engineering at North Carolina State University, expecting to graduate in the spring of 2022. At NCSU, she has become involved with the Science Policy Club, Civil Engineering Graduate Student Association and NC SafeWater. Emma is also very involved with Raleigh's Climate Reality chapter.