The Environmental Research & Education Foundation's School Cafeteria Discards Assessment Project (SCrAP) is a program that aims to understand how waste is generated and managed in K – 12 cafeterias across the United States.
Due to their interests in reducing or better managing waste, the School Nutrition Foundation and Keep America Beautiful joined the program as collaborative partners. With the help of these partners, SCrAP has reached 93 schools across 38 states, representing over 82,000 students.
While participation offers benefits to schools, such as educational resources and food waste and cost reductions, data gathered through the program will benefit a wide-range of organizations. Results from this program will be incorporated into a larger project from EREF's Data & Policy Program investigating waste management practices in each waste sector: institutional (schools, hospitals), commercial (retail stores) and residential. Conclusions drawn from this study will inform organizations across various industries, including school boards, on best practices for managing waste.
SCrAP participants were asked to join at the purple level – complete a questionnaire only – or at the blue or golds levels – complete the questionnaire and conduct cafeteria waste audits 3 – 5 or 6 – 10 times, respectively. Of the 93 schools that joined SCrAP, 91% have a recycling program, 16% have backyard or garden composting and 9% send their organics to a commercial composter.
Schools that elected to perform audits sorted lunch waste into five categories: food waste, liquids, recycling, other/landfill and unopened/untouched food and drinks. These sorts educated students about waste management, and presented opportunities for discussion on the importance of more sustainably managing our waste.
EREF staff compiled the data provided by the schools, finding that the weight of the lunch waste totaled nearly 13,000 lbs! The chart below depicts the breakdown of the discarded material into the five categories.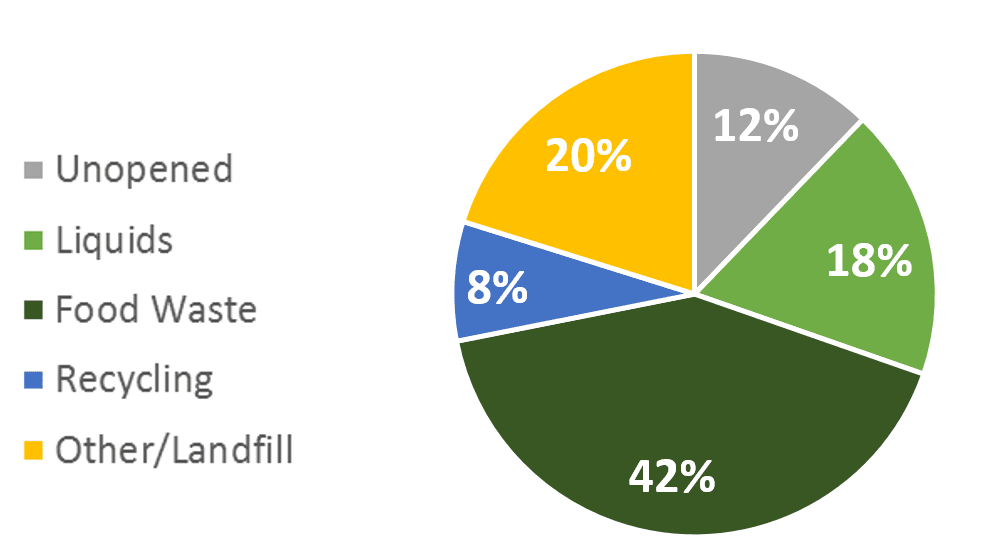 Blue or gold level schools received Snapshot Reports that include links to educational resources, a comparison of each school to other schools at the state and national level and a list of opportunities to increase waste sustainability.
Additional Results:
The largest component was organic waste at 75%. This consists of food waste, beverage waste, and unopened/untouched food.
Milk accounted for 65% of unopened food by weight.
The national average of waste generated per student for schools was 43.3 lbs/student in a school year.
Interested in participating? The School Cafeteria Discards Assessment Project continues through the 2017-2018 school year. For additional program information or to register, please click here or send an e-mail to scrap@erefdn.org.
Looking for more results from the program? Click here for an infographic outlining some of the key results!
Thank you to our sponsors who have helped make this project possible: