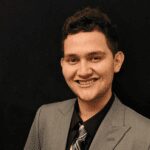 Angel Villarruel-Moore
University of Central Florida, MS
DCA Scholar 2020
MSW Incinerator Ash Co-Disposal with Unburned Waste: Implications for Elevated Temperatures
Project Description:
In recent years, there have been several landfills which have reported landfill gas temperatures in exceedance of their permitted limits set forth by the new source performance standards (NSPS) – these heightened gas temperatures are indicative of elevated temperatures (ETs) in the waste itself. Previous research has shown a correlation between landfills with ETs and those which accept various combustion ashes as either daily cover or as waste itself. Villarruel-Moore's research is focused on rigorously investigating various combustion ashes with the goal of identifying key compounds responsible for the observed exothermic activity that leads to ETs.
Biography:
Villarruel-Moore obtained his bachelor's degree in spring of 2019 from the University of Central Florida (UCF), where he studied Environmental Engineering. During his undergraduate career at UCF, Villarruel-Moore became involved with research relating to membrane filtration and served as President of the UCF chapter of Chi Epsilon – an honor society specific to Civil, Environmental and Construction engineering students – for two incredible years. Aside from research and club involvement, he held an internship with Carollo Engineers where he participated in various engineering projects relating to the water industry. He also served as a teaching assistant for UCF's Introduction to Engineering course, where he shared advice and recommendations regarding all things engineering to aspiring freshmen. After four fulfilling years at UCF, Villaruel-Moore decided to pursue his master's degree there as well! He expects to graduate in the Spring of 2021 with a MS in Environmental Engineering.