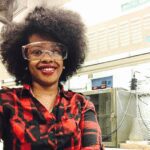 Kameron King
Old Dominion University, Ph.D.
EREF Scholar 2020
Co-Digestion of Food Waste and the Aqueous Phase from Hydrothermal Carbonization of Mixed MSW
Project Description:
In 2017, the United States Environmental Protection Agency (EPA) reported that Americans generated over 268 million tons of municipal solid waste (MSW); 52% (landfilled), 13% (incinerated), and 35% (recycled/composted). As a part of that waste generation, it has been reported that Americans throw away on average 44 million tons of food each year according to the EPA. MSW landfills are the third largest source of human related methane emissions which have 23 times more greenhouse gas (GHG) trapping potential then CO2. A proposed solution to our waste management and energy production could be solved by integrating two processes- hydrothermal carbonization (HTC) to break down the waste, and anaerobic digestion (AD) to convert the waste to energy in order to reduce waste to landfills and maximize the carbon and resource recovery.
Biography:
King is a Ph.D. candidate in Environmental Engineering at Old Dominion University (Norfolk, Virginia) (2015-present). She received her MS in Geography and Environmental Engineering at Johns Hopkins University (2013-2014), and she received her B.S. in Chemistry and a B.S. in Environmental Science and Policy from the College of William and Mary (2009-2012). Her undergraduate research focused on quantifying mercury in catfish found in various rivers in the Chesapeake Bay in collaboration with the Virginia Institute for Marine Science (VIMS). At Johns Hopkins, she worked on the Sustainable Algal Biofuels Solution: Sourcing and Recycling Nutrients from Waste Treatment Processing project. This research focused on the promise and benefits of growing algae in wastewater. Her master's thesis focused on the pre-treatment of Nannochloropsis salina algae in order to increase methane and biogas production during anaerobic digestion. While in Baltimore, she interned with the Maryland Department of the Environment in which she collaborated with the Land Management Administration and designed a research project comparing environmental impacts of adopting various newer technologies for waste disposal in Maryland, in order to help reach their "zero waste" goals. As her passion for renewable energy continues, she is now working with her advisor, Dr. Sandeep Kumar, on integrated processing of biomass for maximizing carbon recovery and fuel production combining hydrothermal carbonization with anaerobic digestion of the HTC liquid phase. Her anticipated graduation is May 2021.