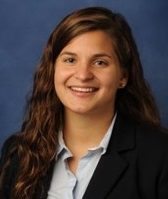 Paige Taber
Clemson University, MS
Carl J. Apicella Scholarship
Hydrogen Peroxide-Based Oxidation on the Removal of UV Quenching Substances
Project Description:
Due to the large amount of dissolved organic matter in landfill leachate, it can strain wastewater treatment making the ability for facilities to meet permit limits more difficult. Therefore, Taber anticipates the results of her research decreasing the stress that comes with treating leachate by making pretreatment more effective. Even preliminary results have already sparked discussions with plant operators, companies that sell UV disinfection products, and professors that also study landfill leachate or advanced oxidation. Taber hopes that, as she gets more results, there will be discussions on how they can help treatment at facilities or help explain other research trends.
Biography:
During Paige Taber's undergraduate career, she attended the University of New Hampshire from 2013-2017 where she graduated with Magna Cum Laude. She received her Bachelor of Science degree in Environmental Engineering: Municipal Processes. She now attends Clemson University where she has been pursuing her Master of Science degree in Environmental Engineering and Earth Sciences since Fall 2017 with an anticipated graduation date during Summer 2019. During her college career, she has applied the knowledge learned during classes to her Technical Writer and Wastewater Plant Operator internships, as well as her research on using algae to clean drinking water, creating a disinfection system for developing countries, and treating landfill leachate. She also has used her involvement in the engineering honor society, Tau Beta Pi, to volunteer at grade school STEM events.