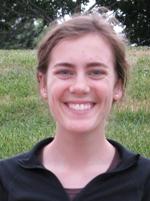 Paige Wilson
Colorado State University, Ph.D.
EREF Scholar 2012
Anaerobic Digestion of Organic Wastes: The Impact of Operating Conditions on Hydrolysis Efficiency and Microbial Community Composition
Project Description (while EREF Scholar):
The need for alternatives to landfilling in the United States is increasing due to regulations and initiatives requiring waste diversion. Anaerobic digestion (AD) of the organic fraction of municipal solid waste (OFMSW) is an ideal technology because it diverts waste from landfills, generates energy in the form of methane, and can recover nutrients by composting waste post-digestion. However, lack of economic feasibility has been a barrier to implementation of AD technologies in the US.
Multi-stage AD systems are a promising technology for the digestion of OFMSW; these systems have the potential to produce high methane yields because each waste conversion stage (i.e., hydrolysis, acido/acetogenesis, and methanogenesis) can be optimized independently. Paige's research focuses on the rate-limiting step of hydrolysis and identifying optimal microbial seed sources and appropriate seed-to-feedstock ratios required for optimal hydrolysis via laboratory-scale digester tests. Furthermore, she will utilize molecular tools to identify and track key microorganisms present in the digesters to ultimately test strategies for restoring/increasing digester performance (such as bioaugmentation with underrepresented and necessary microorganisms) in cases where sub-optimal performance occurs.
Biography:
Paige first became interested in research while pursuing an Environmental Science undergraduate degree at Lipscomb University in Nashville, TN. During this time, she was able to serve as an intern and researcher at a local State Natural Area and gain first-hand experience in the field. After graduating in May 2009, she enrolled at Colorado State University in the Environmental Engineering program to continue her studies. Her research interests include the study of anaerobic digestion and its process limitations.
Paige grew up in Nashville, TN and enjoys any outdoor activity. In her spare time, she enjoys hiking, running, backpacking, rollerblading, travelling and reading.
Research Publications
Thesis: Anaerobic Digestion of Organic Wastes: The Impact of Operating Conditions on Hydrolysis Efficiency and Microbial Community Composition