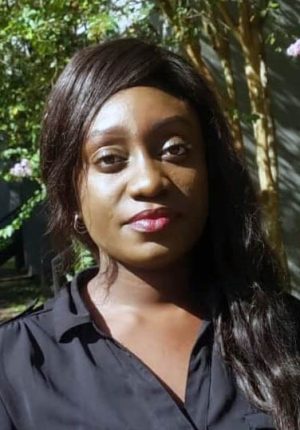 Rarosue Amaraibi
University of South Florida, MS
EREF Scholar 2018
Optimization of Biogas Production by Improving the Amount of Surface Area within a Digester
Project Description:

Biogas is a gas produced from the decomposition of organic materials such as animal droppings, human waste, food and plant waste under anaerobic conditions. Organic substances are placed into a system called a digester that is sealed to prevent the entrance of oxygen, and these substances decompose anaerobically (in the absence of oxygen), producing a mixture of methane and carbon dioxide gas with a little percentage of hydrogen sulfide. This mixture of gases is called biogas. Biogas can be used for heating/cooking; it can be used to power generators, which helps generate electricity.
A certain degree of surface area is needed within a biogas digester in order to aid the breakdown of the organic components into biogas by the anaerobic bacteria. Her research aims to provide scientific data on the amount of surface area needed within a set size of biogas digester for maximum efficiency of the digestion process.
Biography:
Rarosue Amaraibi is a first class graduate of Chemical Engineering (B.Eng) from Covenant University, Ota, Nigeria. She started her undergraduate studies in the year 2010 and graduated in 2015. She is currently pursuing her masters in Global Sustainability with a concentration in Climate Change and Energy Sustainability at the Patel College of Global Sustainability within the University of South Florida. She started her graduate studies in January 2018, and will graduate in December 2019. She is passionate about safeguarding our environment, and constantly seek ways to improve and make it better for all. Her passion led her to start an environmental club called Green Club Nigeria, where she raises awareness on environmental challenges and ways they could be solved. She also has an educational channel on YouTube called "Sustainability Nuggets with Rarosue Amaraibi" where she teaches on environmental topics such as climate change, global warming, sustainable agriculture and renewable energy technologies.