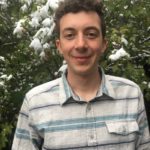 Seth Kane
Montana State University, MS
GMI Scholar 2019
Biochar from Residential Food Waste as a Value-added Filler in Thermoplastics
Project Description:
This project looks to develop novel composite materials by combining biochar from food waste with recycled or biodegradable plastics. Biochar is a carbon-based material produced by heating biomass in a low oxygen environment. From a waste reduction perspective, it is not desirable to add fillers to plastics that may be recycled, as recycling of composite materials is not widespread and is economically expensive. For this reason, recycled high density polyethylene (HDPE) and a biodegradable plastic, polylactic acid (PLA), will be examined. When added as a filler material to plastics, biochar from agricultural residues have been shown to increase the strength of plastics, and decrease the weight. It is hoped that the addition of food waste sourced biochar will make these plastic materials a cheaper and stronger alternative to non-recycled or biodegradable plastics, while upcycling food waste to create a useful material. This research will begin with a cradle-to-grave life-cycle analysis of biochar filled plastic composites as compared to a neat plastic. Energy and material inputs and outputs from material production, end of life effects, waste generated, and cost will be quantified and compared per kilogram of each material. Biochar will be produced from food waste and combined with recycled HDPE and PLA to determine the mechanical properties of these composite materials. This analysis will identify potential areas in which these composites could replace neat plastics.

Biography:
Seth attended Montana State University for his undergraduate degree in Mechanical Engineering from 2012 to 2018. In the fall of 2018, he continued his education at Montana State University for his MS in Mechanical Engineering. He anticipates graduating in Summer 2020.