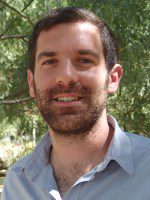 Troy Hottle
Arizona State University, Ph.D.
EREF Scholar 2014
Optimizing Disposal Options for Plastic Biopolymers
Project Description (while EREF Scholar):
Troy Hottle is a PhD candidate at the Ira A. Fulton Schools of Engineering at Arizona State University. His research focuses on optimizing the end of life treatment of biopolymer wastes from an environmental and economic perspective as well as developing various methodologies for evaluating environmental impacts. Using life cycle assessment, material flow analysis, and dynamic modeling, Troy is quantifying the environmental end of life profile for biopolymers and contributing to the fundamental understanding of compostable biopolymers in real disposal systems. Additionally he is investigating the possibility of enhancing degradation rates of biopolymers in industrial composting systems. Only with a comprehensive knowledge of the impacts from cradle to grave of biopolymers will it be possible to make informed decisions related to appropriate selection of polymer types for specific applications and development of infrastructure for optimal disposal.
Biography:
Troy Hottle grew up in Granville, Ohio and attended Hiram College. While at college as an undergraduate he helped create and staff a biodiesel analytics lab for 2 years. Troy assessed bio-based lubricants in small engines. Through his studies at Hiram he had the opportunity to study in over 10 different countries throughout the world.
Troy began his professional life as the project manager and technical expert at Steel City Biofuels which quickly became a part of Penn State through Extension Services. As a Program Associate for Penn State he wrote grants focused on the development and implementation of biofuel infrastructure in the region. Troy then took a job at GTECH Strategies where he served as the Reclamation Projects Manager. While at GTECH he led several projects of note including researching the possible application of man-made soils using residual industrial products, neighborhood-based environmental assessments for vacant land, and developing standard procedures for the evaluation of potential project sites for the organization. Additionally, Troy is Permaculture Design Certified and was a Penn State Master Gardener. He lectured at Phipps Conservatory on composting and garden design. Troy moved to Tempe, Arizona at the beginning of 2012 to pursue an advanced degree in Sustainable Engineering.
In February 2015, Waste Management published Troy's work, "Toward zero waste: Composting and recycling for sustainable venue-based events", which highlighted recycling benefits and the tradeoffs associated with substituting compostable products for existing materials in the waste stream. He presented his poster, "Addressing uncertainty for the sustainability of compostable biopolymers," at the 2015 AEESP Research and Education Conference at Yale in June.
Research Publications:
Diana Meeks, Troy Hottle, M.M. Bilec and A.E. Landis (2015) Compostable biopolymer use in the real world: Stakeholder interviews to better understand the motivations and realities of use and disposal in the US. Resources, Conservation and Recycling, 105 (134 – 142)
Troy A. Hottle, Melissa M. Bilec and Amy E. Landis (2013) Sustainability assessments of bio-based polymers. Polymer Degradation and Stability, 98 (1898 – 1907)
Troy A. Hottle, Melissa M. Bilec, Nicholas R. Brown and Amy E. Landis (2015) Toward zero waste: Composting and recycling for sustainable venue based events. Waste Management, 38 (86 – 94)
Troy A. Hottle (2015) Assessment and Solutions for Waste Handling of Compostable Biopolymers