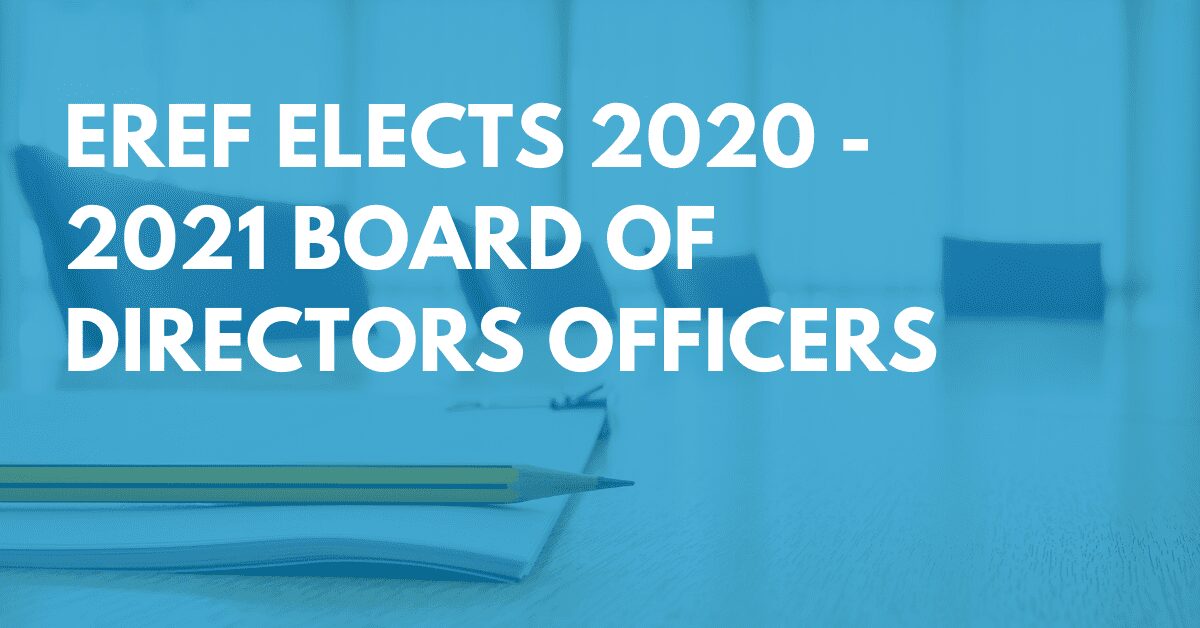 Raleigh, NC (March 10, 2020) – The Environmental Research & Education Foundation (EREF) is beginning the new decade with a change in leadership on its Board of Directors. The Board is pleased to announce the election of its 2020 – 2021 Officers:
Chairman
Pat Carroll
President, Environmental Solutions Group
Vice Chairman
Ven Poole
Member of the Board of Directors, GFL Environmental, Inc.
Secretary/Treasurer
James Little
Executive Vice President, Engineering and Disposal, Waste Connections, Inc.
Immediate Past Chair
Jim Dowland
Pat Carroll has been President of the Environmental Solutions Group (ESG) since 2010. ESG, whose corporate headquarters is in Chattanooga, TN, is a combination of Heil Environmental, Marathon Equipment Company, 3rd Eye, Soft-Pak Software Solutions, Curotto-Can Company, Parts Central and Bayne. Prior to this role, Pat was the President of DE-STA-CO (a Dover Company) for 5 years. DESTA-CO is a global company focused on industrial automation components with manufacturing locations in 9 different countries in the U.S., Europe, Asia and South America.
Prior to his role at DE-STA-CO, Pat was with Terex Corporation for five years, four years as President of the Telelect Utilities business and one year in business development at the corporate headquarters. Prior to his role at Terex, he spent twelve years with Ingersoll-Rand in their construction and mining business where he held a number of positions with increasing global responsibility in sales, marketing, new product development and business unit management.
Pat holds a Bachelor of Science degree in Engineering Science from Montana Tech and an MBA from the University of Texas in Austin.
"This is an exciting time to serve as EREF's Board Chairman. With its recent growth, both from a programmatic and staffing perspective, the Foundation is in a prime position to lead scientific discussions surrounding all aspects of solid waste," said Carroll. "Expect to see a lot of crucial data and information coming from EREF this year."
Ven Poole currently serves on the Board of Directors of GFL Environmental Inc. Prior to its merger with GFL in 2018, Ven served as Chairman and CEO of Waste Industries for 10 years. Prior to becoming CEO, Ven served as Vice President, Corporate Development for seven years, Director of Support Services for 5 years and Director of Risk Management for 6 years. Prior to joining Waste Industries, Ven was a Senior Engineer with Martin Marietta Orlando Aerospace. Ven holds a B.S. in Aerospace Engineering from North Carolina State University ('85). Ven has more than 28 years of experience in the solid waste industry. In addition to being on the Board of EREF, Ven also serves on the NC State University Board of Trustees and the St. David's School Board of Trustees. In 2019, Ven was inducted into the NWRA Hall of Fame.
James Little has been Executive Vice President – Engineering and Disposal of Waste Connections since July 2019. From February 2009 to that date, he served as Senior Vice President – Engineering and Disposal of Waste Connections. Mr. Little served as Vice President – Engineering of Waste Connections from September 1999 to February 2009. Mr. Little held various management positions with Waste Management, Inc. (formerly USA Waste Services, Inc., which acquired Waste Management, Inc. and Chambers Development Co. Inc.) from April 1990 to September 1999, including Regional Environmental Manager and Regional Landfill Manager, and most recently Division Manager in Ohio, where he was responsible for the operations of ten operating companies in the Northern Ohio area. Mr. Little is a certified professional geologist and holds a B.S. degree in Geology from Slippery Rock University.
Jim Dowland is a registered Professional Engineer and has spent the last 40 years in the solid waste industry, 19 with BFI followed by 18 with Waste Management, Inc. During his last 10 years with Waste Management, Jim served as Corporate Vice President of Disposal Operations, retiring from this role in 2018. He has a B.S. and M.S. from the University of Illinois, an MBA from the University of Houston, and has been elected Fellow of the American Society of Civil Engineers.
Further, Jim has served on EREF's Board of Director's for nearly 13 years and during his tenure has chaired the Projects Committee, which is quite active and serves a critical role that drives EREF's research program.
"EREF is fortunate to have a Board comprised of remarkable individuals who are passionate about the work we do and who take a hands-on approach to ensure our success," said EREF President and CEO, Bryan Staley.
For a complete list of the 2020 – 2021 EREF Board of Directors, or to learn more about the Foundation and its mission, visit erefdn.org.
EREF is a 501(c)3 class charity that funds and directs scientific research and educational initiatives for waste management practices to benefit industry participants and the communities they serve. For more complete information on EREF funded research, its scholarship program and how to donate to this great cause, visit erefdn.org.
###
Media Contact:
Catherine Ardoin
Communications Manager
919-861-6876 ext. 109
cardoin@erefdn.org